What Others Are Saying
Harry Greene Recommends Dale
It is my privilege to endorse and recommend Dale Glading to you as a speaker, and as an example of a man who has dedicated his life to serving God. He has faithfully led The Saints Prison Ministry for many years and I have always been blessed to participate in events with him.
Our ministries have the same focus, taking God's word behind prison walls and seeing Him use it to change lives. The Saints Prison Ministry has been greatly blessed by the Lord and that is certainly indicative of the integrity, commitment, and dedication that Dale has exhibited as its leader.
Wherever, and whenever the Lord provides for Dale to share, those in attendance will be blessed and challenged as they get to know Dale and his heart for souls. His wealth of experience, leadership gifts, and professionalism will make him uniquely desired as a speaker.
Should there be a need for further comment, feel free to call me at (804) 553-4090.
Sincerely in Christ,
Harry L. Greene
President & CEO (retired)
Good News Jail and Prison Ministry

Harry L. Greene
President & CEO (retired)
Good News Jail and Prison Ministry
Governor Chris Christie Endorses Glading for Congress in 1st District
Barrington, NJ – (October 14, 2010) Today Gov. Chris Christie offered a ringing endorsement of Dale Glading (R-Barrington) in his race to unseat Rep. Rob Andrews (D-Haddon Heights) in New Jersey's 1st Congressional District.
"Dale and I share many of the same convictions and ideals," Gov. Christie said. "We are both fiscal conservatives who understand that in order for government to work properly, it must live within its means. Simply put, we have to get our financial house in order and that means getting spending under control once and for all."
"Just like Trenton was in 2009, today Washington D.C. is broken almost beyond repair," insisted Christie. "Asking the people who broke it to be the ones to fix it doesn't make any sense."
"Contrast Dale's record of community service with Rob Andrews' tax and spend mentality, and the choice on November 2nd is an easy one," concluded Christie. "That's why I am wholeheartedly endorsing Dale Glading for Congress in the First District."
Pastor Bill Waltz Recommends Dale
I have known Dale Glading for nearly 20 years. He has given exceptional and professional leadership to The Saints Prison Ministry, which he began 24 years ago with the burden the Lord gave him to reach inmates for Christ in a unique way. For this reason our church has supported that ministry for the past 16 years. I also have the privilege of being Dale and Deanna's pastor and consider them to be faithful godly Christians and good friends.
Perhaps the Word that describes Dale better than any other is passion. He has a genuine passion to serve the Lord by making his life count for God's purposes rather than his own comfort. He models what he says in his book, Difference Makers by "living a life that matters, that is of eternal consequence, rather than coasting through his seventy or eighty years on this planet making as few waves as possible."
He is a man of integrity, honesty, generosity, and commitment. Dale is not comfortable living life on the sidelines. He wants to be in the game and to win it for the Lord. I am not surprised that he has named his ministry "Risk-Takers for Christ" since he has shown through his own experience in founding a ministry, running for public office, and writing books that it is possible to boldly step out on faith and take a risk for the Lord. God will surely reward the one who does.
I highly recommend Dale to you. I have heard him preach and seen him serve. His passion for the Lord and knowledge of the Word will challenge you to make a deeper commitment to Christ and take a risk of your own for God's glory. Get ready to be blessed and encouraged through his ministry.
Sincerely yours in Christ,
Dr. William D. Waltz
Pastor – Cinnaminson Baptist Church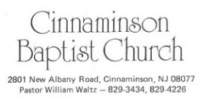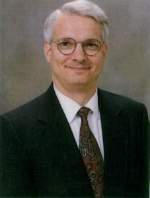 Dr. William D. Waltz
Pastor – Cinnaminson Baptist Church
Pastor Chris Luppino Recommends Dale
It has been my privilege to know Dale Glading for several years. From the moment I met him it was clear that he has a love for the Lord, a love for his family, and a love for people.
My relationship with Dale came through the Saints Prison Ministry. Dale has done a first-class job as the Executive Director of the Saints. However, it became clear very quickly that Dale's ministry with the Saints was the vehicle through which God was using him to minister to others. Dale is not simply a man conducting a ministry, he is a man serving the Lord and others through the ministry.
Dale is a man of honesty, integrity, and compassion. He conducts his life in an open and honest way before the Lord and before others. He is characterized by dedication to God and professionalism in God's work.
As Dale continues to walk with God and follow His leading I expect to hear of great things accomplished for God's glory through his life and ministry.
Sincerely in Christ,
Christopher W. Luppino, Pastor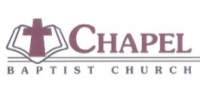 Gary A. Boyd (S.C. Department of Corrections) Recommends Dale
I just wanted to let you know that I consider it an honor to write this letter. I have known Mr. Dale Glading well over twenty years now and have been involved with him and the Saints Prison Ministry in various pastoral activities and ministries.
For approximately fifteen years we have invited Dale and the Saints Prison Ministry to our institutions to minister to our inmates. His leadership esprit de corps and dedication to the Saints Prison Ministry has been exemplified. For the years I have known Mr. Glading he has walked the walk. Dale is an exceptional and inspirational teacher, combining solid theology and complete faithfulness to Church teachings.
I can say that Dale is a consummate professional and would make a great employee for a job suitable to his skills inventory.
I do not hesitate to highly recommend Mr. Glading to your organization, indeed, you will be greatly blessed.
Please feel free to contact me if you have any questions (803) 896-3978.[Opens new window.]
Sincerely,
Gary A. Boyd
Division Director (retired)
South Carolina Department of Corrections
Pastor Roger Truax Recommends Dale
I've been acquainted with Dale since the mid 80's when he married my niece, Deanna. From that time until now, our relationship has been a growing one. We've spent time together as friends, family, golfing partners, participants in church, and a trip together to a prison to do ministry.
Dale is a go-getter and quite competitive. He likes to do his best and see others do the same. His vision and drive resulted in the formation of Saints Prison Ministry almost 25 years ago. The ministry has been quite effective and has grown tremendously under his leadership.
Dale is a conservative Bible-believing Christian and is bold in his witness for the Lord and Christian values. Having preached at our Church on a few occasions, I know him to be a gifted and effective speaker.
I believe Dale could serve efficiently as a Pastor and do well as an evangelist.
In Christ,
Roger D. Truax, Pastor (retired)
Pleasant Ridge Church of the Brethren