Welcome to Risk Takers for Christ, a sports ministry to prisoners and at-risk youth.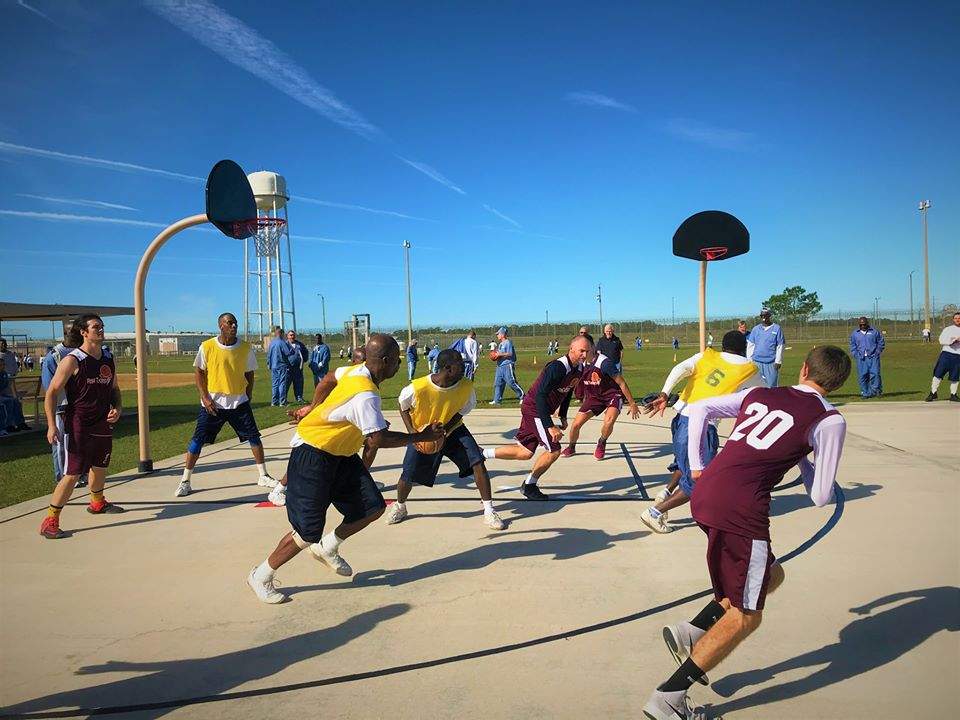 ***OUR 5th ANNUAL OLDE HICKORY GOLF CLASSIC ON MAY 14th WAS A SMASHING SUCCESS. SPECIAL THANKS TO ALL OF OUR SPONSORS, VOLUNTEERS, AND PARTICIPANTS!***
Risk Takers for Christ's mission is to reach prisoners and at-risk youth with the Gospel of Jesus Christ by engaging them in athletic competition and providing positive male role models.
There are an estimated 2.2 million prisoners in America and almost 100,000 in the State of Florida alone. Although 95% of all inmates are eventually released, the tragic truth is that 2/3 of them are re-arrested within four years. However, only 10-15% of inmates who trust Jesus Christ as their Savior and are properly discipled post-release ever return to prison.
Our goal is to reduce recidivism (re-arrest) rates by leading inmates to saving faith in Jesus Christ. We also endeavor to reach at-risk youth with the Gospel before they get into trouble with the law.
What We Do... and Why
It is our firm belief that spiritual regeneration is the key to effective rehabilitation. Based on our 34 years of prison ministry experience, we are also convinced that a leading cause of criminal behavior is the lack of a positive male role model in the lives of young men. Broken homes and fatherless families create a void that is too often filled by gangs, drugs, and violence.
For these reasons, we operate the following "front line" outreaches:
Living H2O Initiative, a sports outreach to at-risk youth in our community
Florida Prison Project, monthly ministry trips to various correctional institutions throughout Florida (we have also conducted prison ministry events in KY, SC, NJ, DE, and Kenya)
We also seek to encourage and equip believers to become spiritual "risk takers" through our weekday Dare 2B Daring devotional messages and our monthly ministry newsletter, Take a Risk! To subscribe for FREE to either or both publications, visit our Contact Page or email info@risktakersforchrist.org.
Who We Are
RTC was founded in 2011 by Rev. Dale Glading, who has more than 30 years of prison ministry experience. Rev. Glading has also authored three books, is an accomplished speaker, and is a former two-time candidate for the U.S. House of Representatives.
Rev. Larry "Chap" Lilly joined RTC in 2012 as vice president after a nearly 30-year career with the Delaware Department of Corrections.
Other RTC team members include Rebekah Bailey, Director of Communications; Chris Glading, Director of Programs & Publicity; Rev. Keith McCrea, Sr., Director of Inmate Correspondence; our seven-member Board of Trustees; our Advisory Council; and our hundreds of prayer partners, financial supporters, and mission trip participants.
Please review our Statement of Faith.
How You Can Join Us
We invite you to be a fellow Risk Taker for Christ by praying for our ministry; supporting us financially; inviting us to speak at your church; or participating in one of our Front Line Outreaches.
How You Can Reach Us
Risk Takers for Christ, Inc.
PO Box 651421
Vero Beach FL 32965-1421
772.539.1826
Please review our Statement of Faith.