Take a Risk!
A monthly publication from Risk Takers for Christ
Volume 10, Issue 7 July 2019
moving believers from the sidelines to the frontlines
Three Comeback Kids
by Rev. Dale M. Glading, President
Late in the after- noon on Sunday, April 14, 2019, Eldrick "Tiger" Woods thrust his arms triumphantly in the air as his winning putt dropped into the hole on the 18th green, giving him a one-shot victory over Dustin Johnson, Brooks Koepka, and Xander Schauffele. By claiming his fifth green jacket, Woods broke a tie with Arnold Palmer and now only trails Jack Nicklaus, who won six. More importantly, he narrowed the gap between his 15 major wins and Nicklaus' record of 18.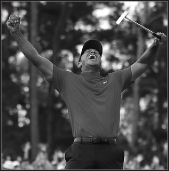 Many commentators hailed Tiger's victory at August National as the greatest comeback in sports history. After all, they reasoned, he hadn't won a major since the 2008 U.S. Open, a span of almost 11 years. In the interim, Woods' personal life made headlines and he underwent four back operations and multiple knee surgeries. Most people, including Tiger himself, doubted whether he would ever play golf again, let alone compete at the game's highest level.
However, without detracting from Tiger's achievement, I would only rank his comeback at #3 on the all-time list. To me, what Ben Hogan accomplished in 1950 was even more impressive.
On the morning of February 2, 1949, Hogan and his wife Valerie were driving on a fog- shrouded bridge just east of Van Horn TX. Out of nowhere, they were hit head-on by a Greyhound bus. Hogan nearly died, suffering a broken pelvis, a fractured collar bone, a broken ankle, and multiple - potentially deadly - blood clots. Told that he might never walk again, Hogan was confined to his hospital bed for almost two months before being discharged.
The following year, after months of painful rehabilitation, Hogan entered the Los Angeles Open, where he surprised everyone by tying for the lead after 72 holes before losing to Sam Snead in a playoff. That June, Hogan was again in contention at the U.S. Open, sitting in fifth place after the second round, two shots behind Dutch Harrison.
Back then, the final 36 holes were played on a Saturday - 18 in the morning and 18 in the afternoon. With his legs wrapped in bandages from his hips down, Hogan limped through both rounds to finish in a three-way tie with Lloyd Mangrum and George Fazio. In the next day's playoff,
Hogan bested Mangrum by four strokes and Fazio by six.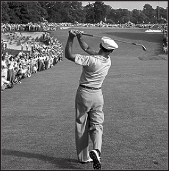 Hogan successfully defended his U.S. Open title the following year and then, in 1953, he won five of the six tournaments he entered, including three majors. To commemorate that historic milestone - and in recognition of his courageous comeback - Hogan was given a ticker-tape parade in New York City.
So, you may be wondering, if it's not Tiger Woods or Ben Hogan, who do I consider to be the greatest "Comeback Kid" in sports history? To answer that question, we have to leave the golf links for the baseball diamond. Specifically, the pitcher's mound.
On October 7, 1988, San Francisco Giants pitcher Dave Dravecky had surgery to remove a cancerous desmoid tumor in his throwing arm. The doctors removed half of his deltoid muscle and froze his humerus bone. Although he was advised not to pitch for at least a year, Dravecky rehabbed tirelessly in the minors and was back on a Major League mound by late summer.
On August 10th, he threw eight strong innings as the Giants beat the Cincinnati Reds. Five days later in Montreal, Dravecky tossed three no-hit innings before feeling some tingling in his arm. In the sixth inning, on a pitch to Tim Raines, his humerus bone snapped in two, the sound echoing throughout the stadium as Dravecky collapsed to the ground.
Dave suffered a second break to the bone during a post- season celebration, after which X-rays revealed a malignant tumor. Dravecky was forced to retire and, after two more surgeries, his left-arm and shoulder were amputated.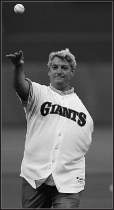 Undaunted, Dravecky launched a new career as a motivational speaker. He also co-wrote two books, "Comeback" with Tim Stafford (1990) and "When You Can't Comeback" with his wife Jan and Ken Gire (1992). "Comeback" is a good read and very, very inspirational. However, I much prefer Dave's second book, because it deals honestly and transparently with the aftermath of Dave's career-ending injury and Jan's subsequent depression.
If I could summarize "When You Can't Comeback" in a single sentence it would be this: there is nothing wrong with admitting our weaknesses - physically, emotionally, and even spiritually. For as Paul reminds us in 2 Corinthians 12:10, "when I am weak, then I am strong."
Dave and Jan Dravecky discovered that, even in life's lowest points and deepest valleys, God's grace is sufficient (see 2 Cor.12:9). And that, as Paul reminds us in the same verse, is something to boast about.
The comebacks of Tiger Woods, Ben Hogan and Dave Dravecky all had several things in common: courage, hard work, and a never-say-die attitude. However, only Dravecky's included the most important element, which is faith.
My friend, if you are currently experiencing a setback - or a series of them - of your own, I urge you to take a page out of these sports icons' playbook. "Be strong and very courageous" (Joshua 1:7); keep your nose to the grindstone (2 Thessalonians 3:10); and refuse to give up (Galatians 6:9). Above all, exercise faith in the One who has a history of turning trials into triumphs.
A Poignant Post
by Rev. Dale M. Glading, President
For those who don't follow our Risk Takers Facebook page, here is a post from May 28th…
"Last night at our Living H2O Initiative at South County Park in Vero Beach, we played seven games of 3-on-3 basketball. Was the highlight the fact that we won 5 of the 7 games? Nope! Was it the fact that my shot was "on" and I managed to sink more than a dozen three- pointers? Not even close!"
"The real highlight was the following conversation I had between games with a young man who attends our Living H2O Initiative on Thursday evenings, but was having an off-night yesterday..."
Me: "You know that we still love you no matter how good or bad you play, right?"
DeAndre: "Yes, I know that, and I love you too. You're like a second father to me."
I didn't know whether to smile from ear to ear or to break down in tears…so I did both!
Washing Toilets
**by Os Hillman, TGIF Today God Is First Volume 2*
"those he wanted to promote, he promoted; and those he wanted to humble, he humbled" (Daniel 5:19)
Paul desired a career in the building industry. Early in his career, he was working with a large ministry to help direct several of their construction projects.
As the projects were completed, Paul was asked to stay on for future projects. To keep him busy he was given a number of jobs - one of which was cleaning toilets. He recalls getting down on his knees each day and com- plaining to the Lord, "Lord, I'm a college graduate!"
Discouraged, Paul told the Lord, "I will not leave here until You promote me. Please give me contentment with my circumstance."
Paul felt totally forgotten by God. A few months later, Paul received a phone call from a man in the Midwest who owned five successful businesses who wanted to interview Paul for a job. This came as a total surprise to Paul. As he drove to the interview, he told the Lord, "I only want your will in my life, nothing else. I am content to remain obscure for the rest of my life if I have You.
You must override my lack of experience for me to get this job."
The owner of the company asked Paul a surprising ques- tion: "If I asked you to clean a toilet, what would you do?" Paul sat there, stunned. He wanted to burst out laughing. Paul assured him that he would simply pick up a sponge and start cleaning.
Amazingly, Paul was hired even though other candidates were more qualified. After several months of success Paul asked his boss why he hired him. His boss replied, "Paul, I still have a large stack of applications from peo- ple who wanted this job. Do you remember the first question I asked you in the interview? I asked each one the same question. You were the only one who said he would clean the toilet. Paul, I am a wealthy man, but I grew up dirt poor. I clean my own toilets at home. I can't have people running my businesses who are too proud to clean a toilet."
Sometimes God places us in situations to see if we will be faithful in those before He is willing to promote us to greater things.
Reprinted by permission from the author. Os Hillman is an international speaker and author of 15 books on workplace calling. To learn more, visit http://www.MarketplaceLeaders.org
Upcoming Risk Takers Events:
July 13: Basketball at Sumter CI, Bushnell FL
August 10: Basketball at Marion CI, Lowell FL
September 14: Basketball at Avon Park CI, Avon Park FL
October 12: Basketball at Polk CI, Polk City FL
November 9: Basketball at Zephyrhills CI,Zephyrhills FL
December 14: Basketball at Martin CI, Indiantown FL
2nd annual 100-Hole Golf Marathon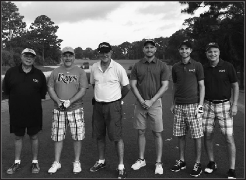 Living H2O Stories
The true - and touching - stories from our Living H2O Initiative just keep coming. Here are a few of the most recent ones, all of which occurred on June 6th...
Story #1 - I arrived at the church gym around 5:50 p.m. and a young man named Jonathan was waiting for me. He held the door open as I unloaded the basketballs, water bottles and other equipment. Then he shared the following...
"As you can see, I'm trying to make as many basketball nights as possi- ble before I have to report."
Jonathan has been faithfully attend- ing our program for about four years and on June 18th, he reports to basic training in Michigan to serve our country. Please pray for a hedge of protection and that God reveals Himself to Jonathan in a profound way.
Story #2 - During our half-time gospel presentation, I was sharing with the young men about the 100-Hole Golf Marathon that my two sons and I played in the day before. Here is how the conversation went...
Dale: "Chris, what were you doing at 7 a.m. yesterday?" Chris: "Playing golf with you, Dad."
Dale: "How about at Noon." Chris: "Playing golf."
Dale: "And at 4 p.m. and 7:45 p.m.?"
Chris: "Still playing golf."
I then told the young men that the reason we had subject- ed our bodies to playing 100 holes over 13 hours in 88- degree temperatures was because we were trying to raise money for our Living H2O Initiative.
I said that the money raised would be used for the basketballs we use, the refreshments we serve, the Bibles we make available, and the gift cards we award.
Before I could finish, one young man interrupted me by saying, "We love you, too." Then another chimed in, "Yeah, we love you too, Mr. Dale."
My eyes are tearing up as I type these words...
Story #3 - While I was driving one of the young men home to Gifford, he received a phone call. The conversation was brief and involved what he had eaten for dinner that evening.
When he hung up, I asked if he had been talking to his great-grandmother, who is raising him. "No," he replied, "that was my dad. I'm 16 and I just met him for the first time in my life."
Heart-wrenching, indeed. Please pray for Ross as he tries to develop a solid relationship with his dad and half- siblings.
Our Staff & Board Members
Rev. Dale M. Glading, President
Rev. Larry "Chap" Lilly, Vice President
Christopher Glading, Director of Programs and Publicity
Rebekah Bailey, Director of Communications
Trustees: Rev. Thomas Griffin, Michael Kelley, Steve Navarro, Dr. Matt Parris, Rev. Greg Sempsrott Advisory Council: Robert Bartosz, Steve Schoch
Take a Risk! is a publication of Risk Takers for Christ, PO Box 651421, Vero Beach FL 32965-1421. Excerpts may be published or reproduced providing proper attribution is given.